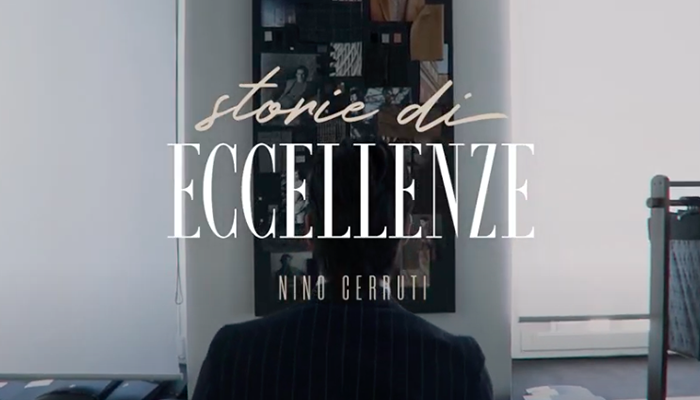 Storie di Eccellenze: Lanificio F.lli Cerruti 1881
The wool mill and Signor Nino at the centre of a project by Frank Gallucci
The format of "Storie di Eccellenze", conceived by Frank Gallucci, has its origins in the wish to create something different, more dynamic and able to reach the depths with broader contents.
The "Storie di Eccellenze" project
What was Frank Gallucci's objective? His passion for in-depth analysis has highlighted a missing piece between two opposing worlds: on the one hand the ultra-fast universe of social networks where every single photo, video or piece of news is immediately overtaken by the arrival of the following one; on the other hand, the universe of in-depth journalism which had little in common with the type of content preferred by social networks. Hence the idea of finding, or at least looking for, a new way of reading in order to make it possible for an exhaustive product (which obviously contemplates different times) on platforms which are developed under the banner of speed. 
The focus is placed on the realities of excellence which Italy is still, and has always been, able to create: realities which do not necessarily belong to the world of style or elegance, because in the course of the new episodes, we will see extraordinary companies which are active in other sectors, but always have at least one common denominator: Made in Italy.
Behind the Scenes at Lanificio F.lli Cerruti
One of the participants in this format dedicated to stories, backstage and narratives about the companies which symbolise Italian excellence was also Lanificio F.lli Cerruti. Frank Gallucci, in fact, took the opportunity to go behind the scenes in a video of day-to-day life at the wool mill, but he also used the occasion to tell some of the backstories to Signor Nino's career.
Indeed, in the words of Gallucci:
"Signor Nino, for whom every type of adjective would be superfluous, is the face of an incredible company with a long history. The significant change of gear towards internationalisation and the strong identity he has managed to give the company are all down to him. I was very much looking forward to meeting the "deus ex machina" to try to understand close up what everything hinges on: the spirit of a living legend."
It was a very intense visit, with a lot of the anecdotes, curiosities and stories to be found under the surface, but which constitute the true essence of an Italian excellence – such as the wool mill.
"After having spent a whole day with the wool mill's team (to whom I owe a great debt of gratitude), I came home with a heart full of strong emotions which were given to me in a magical place to be found on maps under the name of Biella."