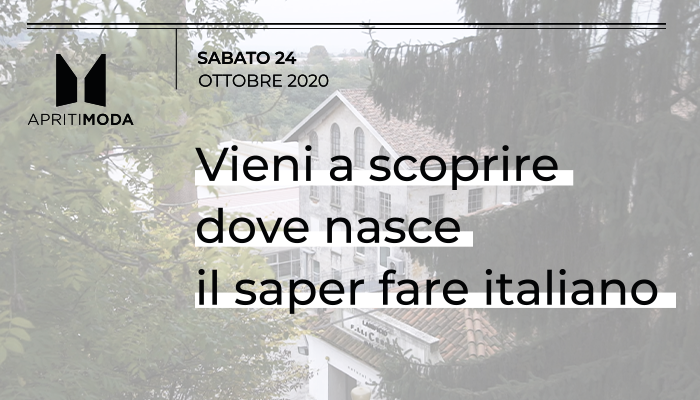 Apriti Moda: discovering Lanificio F.lli Cerruti
The wool mill takes part in the project of open door days
On the sign it says: "Lanificio F.lli Cerruti, dal 1881. Natural Born Elegance". Here, an architectural dialogue takes place between the old 18th-century factory and the modern buildings planned by the famous Italian architect Vico Magistretti. In this framework, the story of historical Biellese weavers from the Cerruti family and the excellence of the great sartorial passion handed down over generations are interwoven. And Nino Cerruti has this same passion. From the spinning of the wool slivers to the beaming, from the spinning of the yarns to the finishing. Lanificio F.lli Cerruti is taking part in the project named "Apriti Moda" (Open Up Fashion) to provide a complete journey to discover the secrets of extraordinary textiles.
The Apriti Moda Project
Apriti Moda is more than just a project: it is really an event designed to take people on a journey to discover Italian fashion in the places where it is created. It is a way of creating a connection, a bond between people and fashion.
The project will take place over a weekend when the most famous brands and the artisans of Italian excellence will open their doors to help the public discover the secrets of Made in Italy. Throughout Italy, in old office buildings, in hidden courtyards, in former factories which have been reinvented, or in the most exclusive ateliers, genius, culture, true artisans create fabrics and works of art which are highly regarded across the world. Apriti Moda gives people the opportunity to find out about all these things.
Come and visit Lanificio F.lli Cerruti
Lanificio F.lli Cerruti is proud to take part in this event and to open the doors of its historical headquarters to the public, to take them on a unique journey through the creativity and artisanal expertise which breathes life into extraordinary fabrics.
Come and visit us on Saturday 24th October, we look forward to taking you on a guided tour, in total respect of the Covid guidelines.
Book your visit at: https://apritimoda.it/maison/lanificio-cerruti/