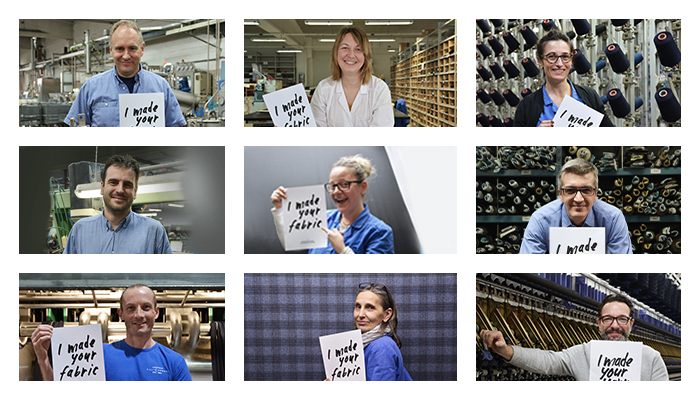 Lanificio F.lli Cerruti takes part in the Fashion Revolution project
A different way of telling the story of clothes and fabrics
Lanificio F.lli Cerruti dal 1881 is happy, and also proud, to participate in the Fashion Revolution project, an initiative by the Foundation of the same name and with the participation of many other specialists and workers in the field of fashion to increase consumer awareness of how the clothes and fabrics we wear every day are produced. Placing the emphasis on those people who create them for us.
The aim of the initiative, which has also been part of Fashion Weeks for some years, is to promote a change towards a more sustainable and responsible fashion industry and the first step in doing so is to make the industry more transparent. This means showing the end consumer – and everybody else – who is behind the fabrics produced. Showing the faces of those who actually manufactured the fabric, who designed it, who tailored it, in safe workplaces, using the appropriate tools, and being treated as equals. Putting faces to jobs, with a sense of responsibility.
And we have chosen to do this, so we created a series of photos (taken before the provisions of the Italian government in the fight against Covid-19 came into force) in which some of our employees, in their respective departments, hold up a sign saying "I Made Your Fabric", in order to demonstrate who in our establishment actually worked on the production of the fabric. Because, behind the quality of our fabrics, there is a whole world of people who put passion, commitment and enthusiasm into what they do every day. We are happy to participate in the Fashion Revolution project to help others understand that there is much more than meets the eye in every piece of fabric. It is only the first step in making a positive and increasingly sustainable change in our sector.