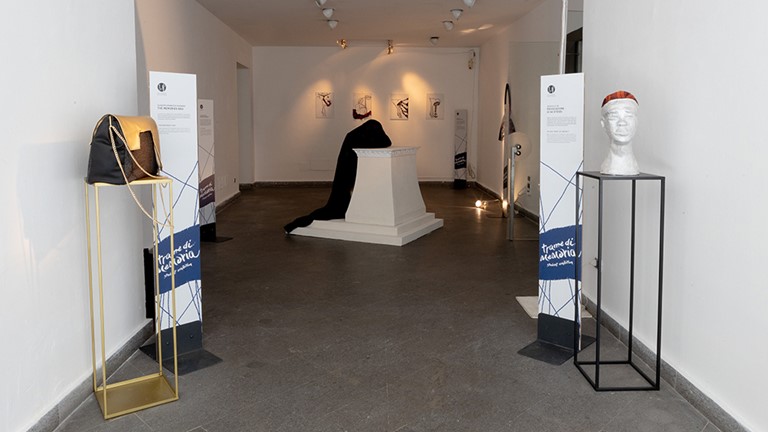 Lanificio F.lli Cerruti and Accademia IUAD for Graduate 2022
Two Italian excellences united for the project Trame di Memoria 
Recollections are the imprints of the past, registered in our consciousness, reflected in our memory and revealed in our dreams. 
Lanificio F.lli Cerruti dal 1881 and Accademia IUAD, two Italian excellences, came together for the leading project of Graduate 2022, now a fixed, unmissable appointment at the Accademia della Moda which has its headquarters in Naples and Milan. The theme of the Graduate project for this year was Memory – a topic which is relevant as never before in this, our period, when it seems that survival is increasingly about the ability to forget.
Trame di Memoria: the topic of Memory
The theme of this year's event takes its inspiration from psychoanalysis which was developed for the in-depth study of memory and the art of forgetting. The starting point was the father of modern psychology, Sigmund Freud, leading to the sources of classical mythology, and to more recent expressions in contemporary art. The subject of memory, of remembering and forgetting runs through all the arts and, as a result of the Graduate project, culminates at the subject of fashion in our times, incarnated by textiles. 
Lanificio F.lli Cerruti dal 1881 fabrics encompass in just a square piece the essence itself of the artistic dimension of the brand, the concept of Made in Italy, creativity, passion and the commemoration of an ancient tradition. 
In the exhibition and the students' works, the aim is to bear witness to the intrinsic sense of memory, giving importance to the emotions and feelings which they generate, and which have moved into the background with the advances of 3.0 technology and AI. The works included in the exhibition are designed to emphasise a more concrete, more emotional world, made up of feelings and sensations; which is why the installations are realised using fabrics produced by the wool mill.
Between memory and poetic vocation, each of us should design a fashion made up of lyrical transformations.